Aviatrix Game at 9Winz Casino
Users of 9winz life have a great opportunity to play Aviatrix game on the site and via the mobile app both on real money or in demo mode. Learn how to play aviatrix, which strategies you can use and check the answers to the most popular questions.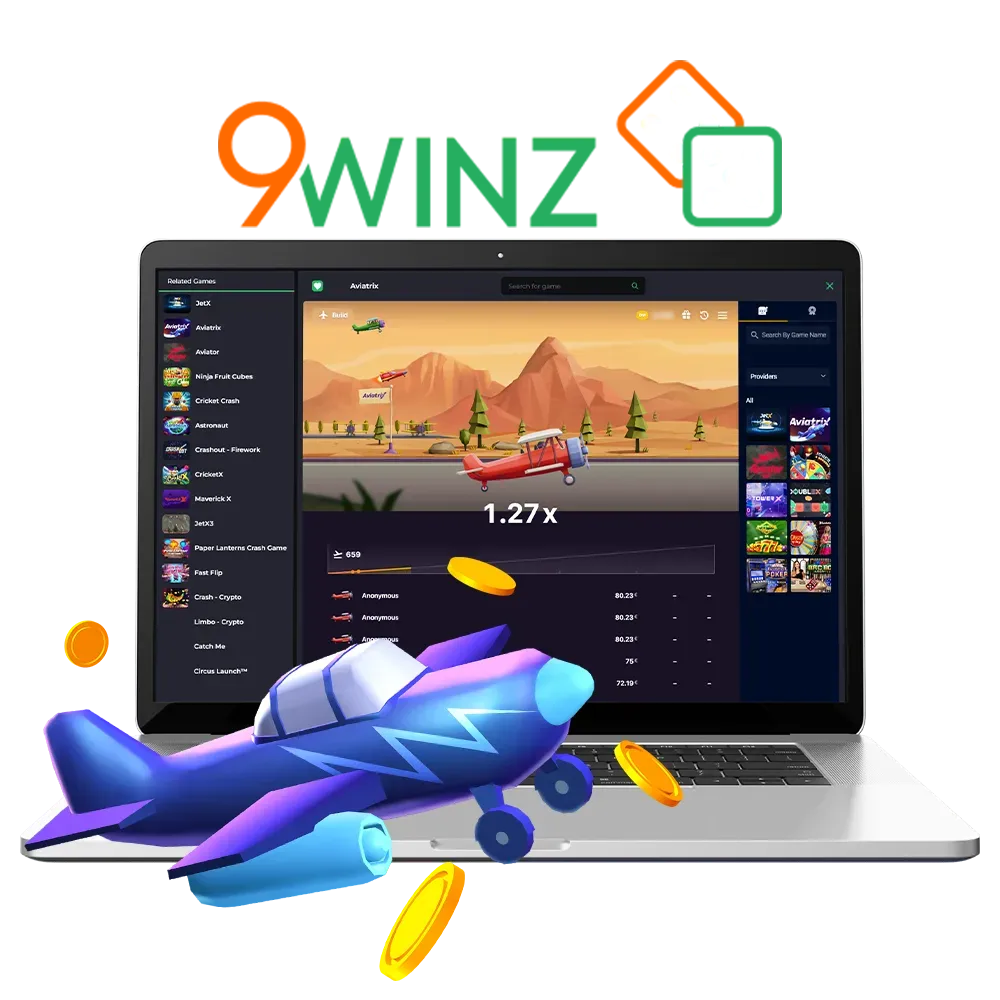 About Aviatrix Game
Aviatrix is a crash game where you win depends on two factors: your luck and your decisions. Rules of the aviatrix are simple, so even beginners can start playing it right away. The main point is that you have to make a cash out of your bet before a virtual airship crashes or flies off the screen.
To know more about the aviatrix game, check the table below:
| | |
| --- | --- |
| Provider | Aviatrix |
| Release year | 2022 |
| Category | Crash game |
| Theme | Airship |
| RTP | 97% |
| Min./Max. bet | $0.10/$10 |
| Max. multiplier | x10,000 |
| Demo version | Available |
| Volatility | Medium |
| Features | NFT integration, enhanced crash mechanics, customization options, auto-bet, auto-cashout, loyalty program, |
How to Start Play Aviatrix Game
Aviatrix has straightforward and intuitive gameplay, as well as simple rules, so every bettor can start playing it almost right away. Use the instructions below, which will help you:
When you start the game, you see an animated broadcast with an airship and a betting field;
Place your bets, which can be one or two, before the round starts;
At the start of the round you see how the airship flies upwards and bets can not be placed after that;
While the airship gains altitude, the multiplier grows;
At any time of the game you can make a cash out and get a win, the amount of which depends on the value of multiplier at the moment;
You have to make a cash out before the airship crashes, which can be at any point in the round, otherwise you loses;
The minimum multiplier is x1.01 and the maximum is x10,000.
Knowing these rules is enough to start playing Aviatrix Crash game for real money.
One more thing you should know is that during a play on real money, you can set parameters for your airplane such as model, color, and other details. Meanwhile, airplanes of other players can be seen in the background. The NFT function allows saving the created model for subsequent bets on different online casino platforms.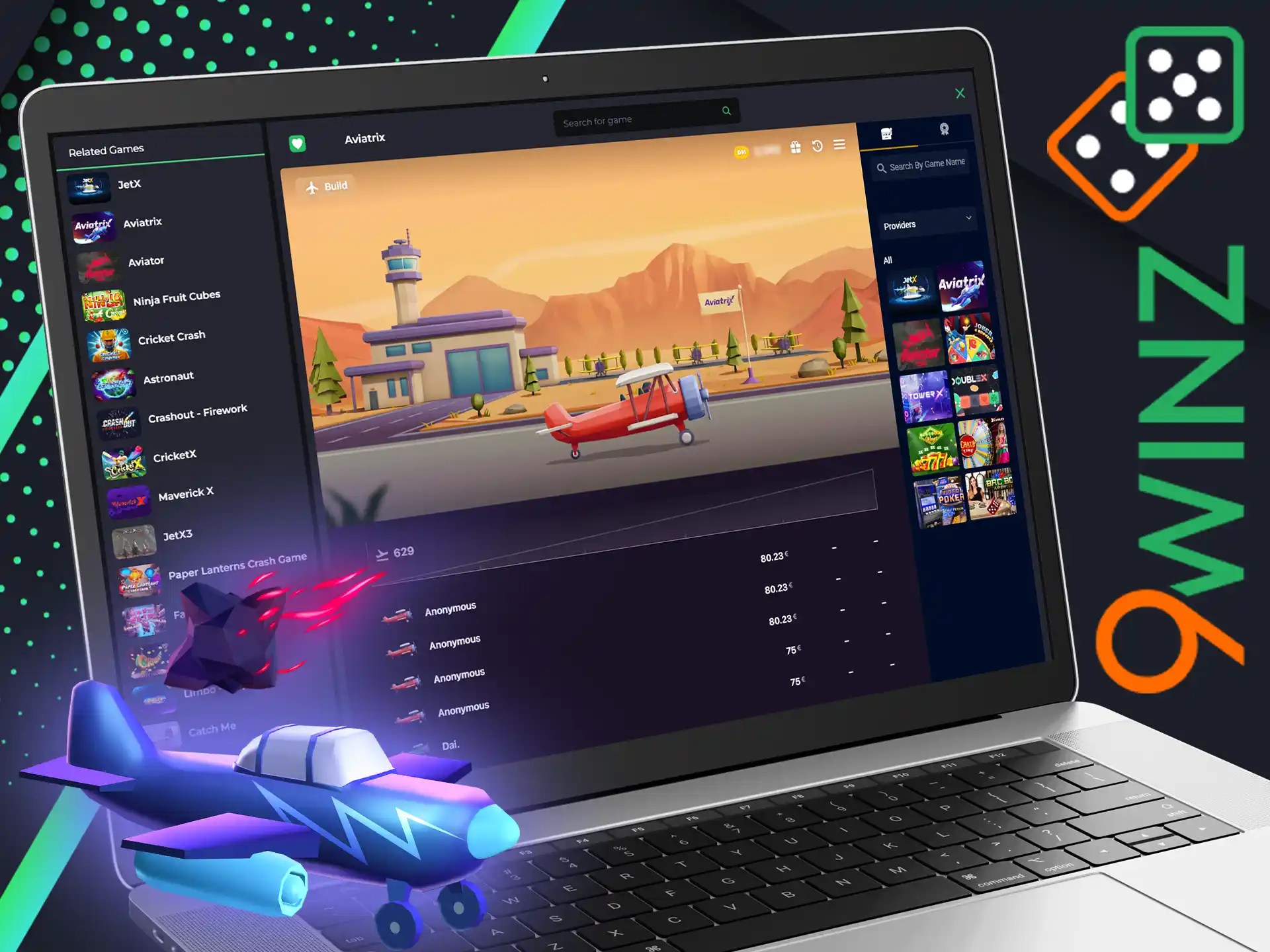 9Winz Aviatrix Demo Version
Playing the 9winz aviatrix game is possible in demo mode, which allows users to explore the game's features and familiarize themselves with its rules before betting real money. Demo version provides a virtual balance which can be used for placing bets, however it is impossible to withdraw winnings in real cash. Experienced players can use the demo version for testing new strategies. The betting process in the demo mode is the same as in the paid version, except the availability to set individual parameters for your airplane.
Aviatrix Game Strategy
There are some useful strategies, which can help you to increase your chances on win in aviatrix, they include the following:
Start with small bets and increase them when you win;
Use a low risky strategy, which requires to place bets of small amount and make a cash-out at low multiplier value;
Use a risky strategy, which requires to place bets of big amount and make a cash-out at high multiplier value;
Use a combination of low and risky strategy, placing bets of big amount and making a cash-out at low or medium multipliers;
Use the martingale strategy which requires increasing your bet amount twice every time you lose until you win.
You can use these strategies or create your own.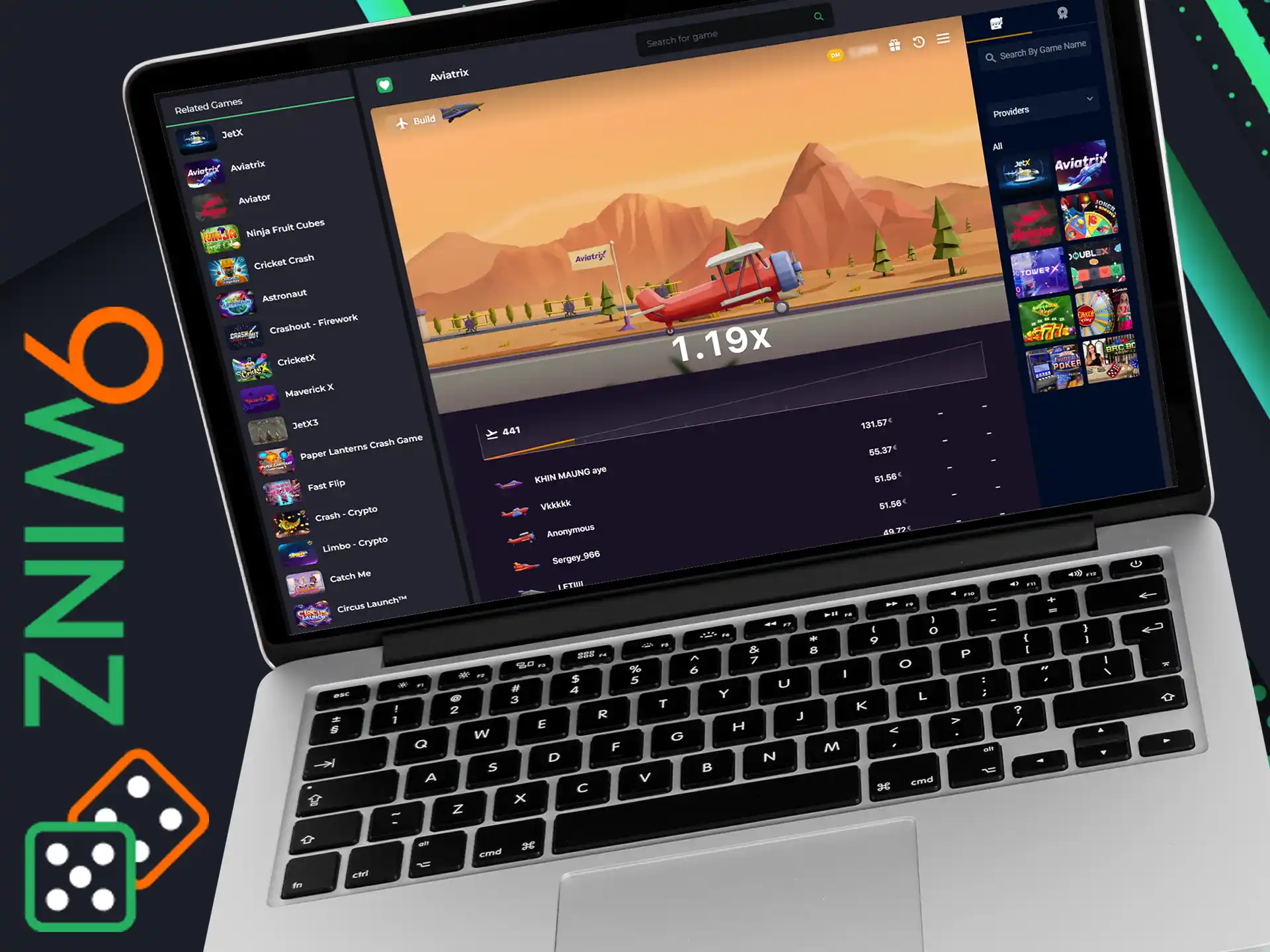 9Winz Aviatrix Game App
Users of 9winz can play Aviatrix game, as well as other casino games on the go from their mobile devices via the 9Winz apps for Android and iOS operating systems, which will be available very soon. Now you can take advantage of the mobile version of the site which also allows users to play from their smartphone or iPhones.
The app will include all features and benefits of the site, as well as provide its own unique functions. Once it is available, you will be notified.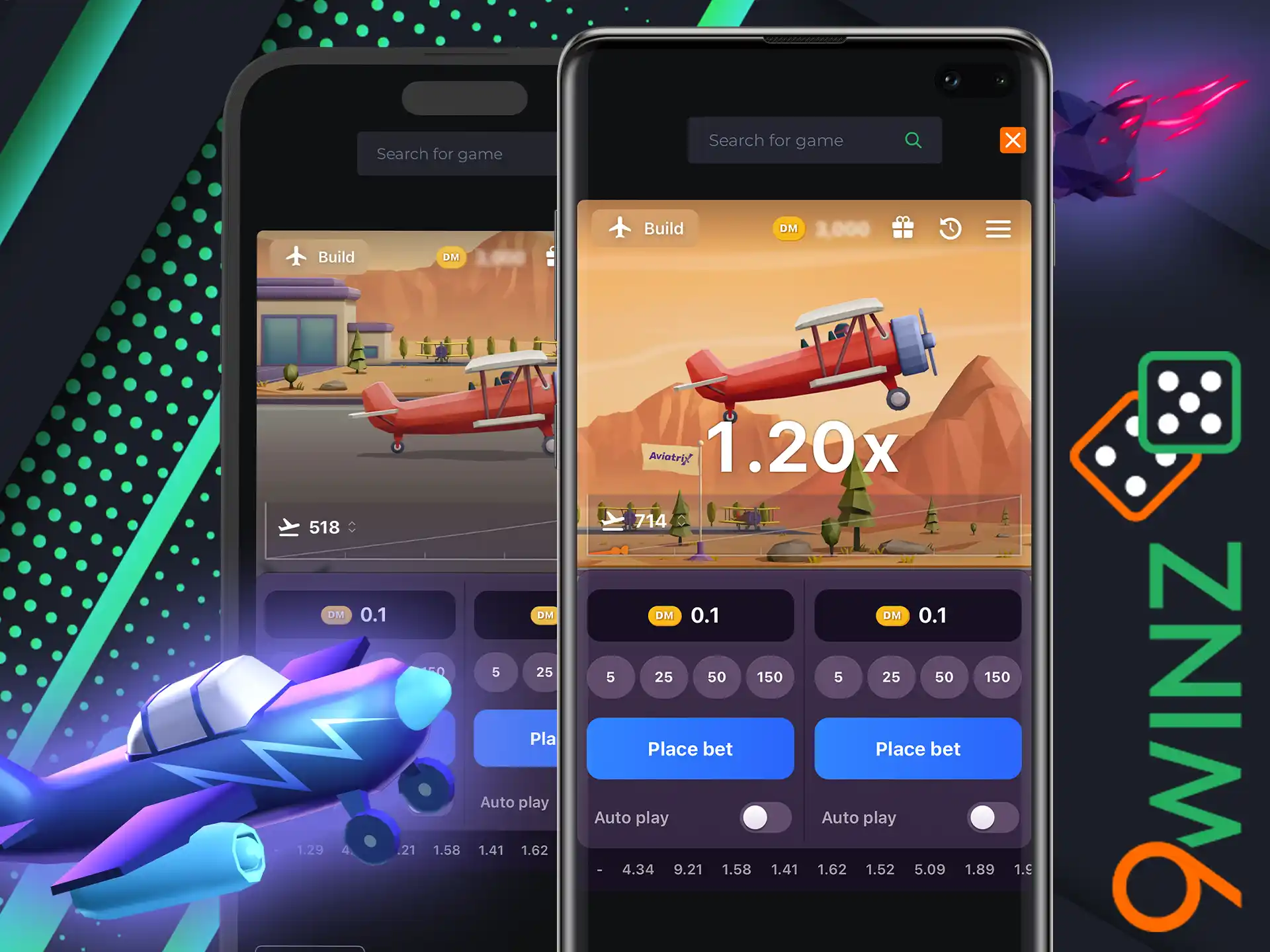 Conclusion
Aviatrix is a great game to have some fun, relax and play on real money. It has some unique features, such as integration of NFT or customisation options, which make it different from other crash games. The outcome of the game depends not only on game algorithms, but also on your actions, as only you decide how much to bet and when to make a cash out.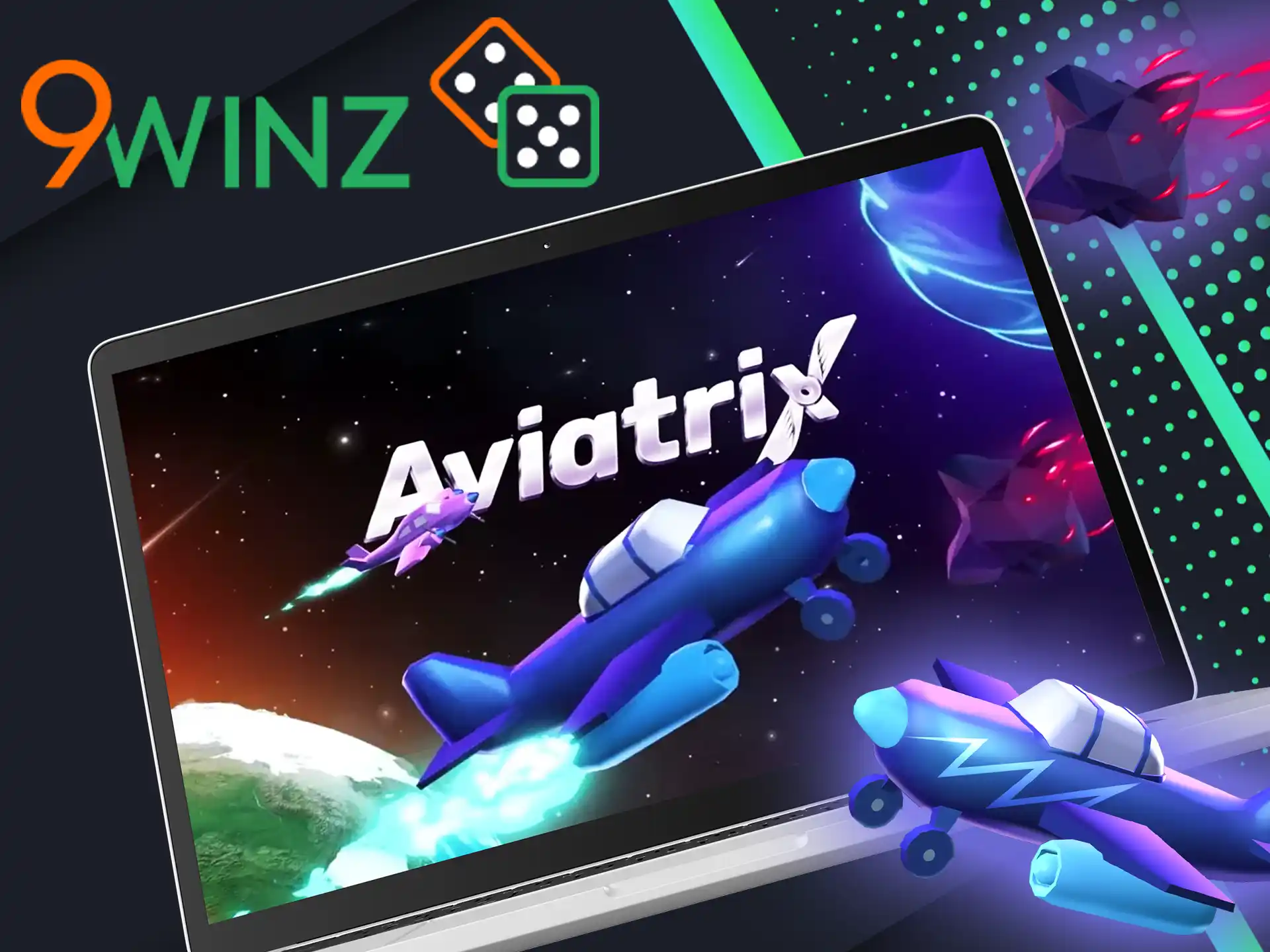 FAQ
What is Aviatrix?

Aviatrix is an innovative online crash game based on the theme of aviation, which allows players to engage in real-time betting and gives a chance to get big winnings.
Is there a tutorial available?

Yes, you can check the tutorial in this article or in the game itself. 
Is there a demo version available?

Aviatrix provides a demo version, so every player can use it for free.
What platforms can I play Aviatrix on?

You can play Aviatrix on 9Winz website, mobile site, or via the apps for Android and iOS.
Are there any risks associated with playing Aviatrix?

Yes, as all results in Aviatrix are unpredictable and completely random, there may be some losses, so you should be aware of this risk factor.