Responsible Gaming on 9winz
9winz Live offers its customers a wide range of gambling games on the official website and in the web version. However, we would like to remind every user that gambling cannot be a means of earning money or a way to earn extra income. If you are lucky several times in a row and win money, it does not mean that the successful streak will last. In gambling, you are always at risk, and there is no guarantee that you won't end up losing your deposit.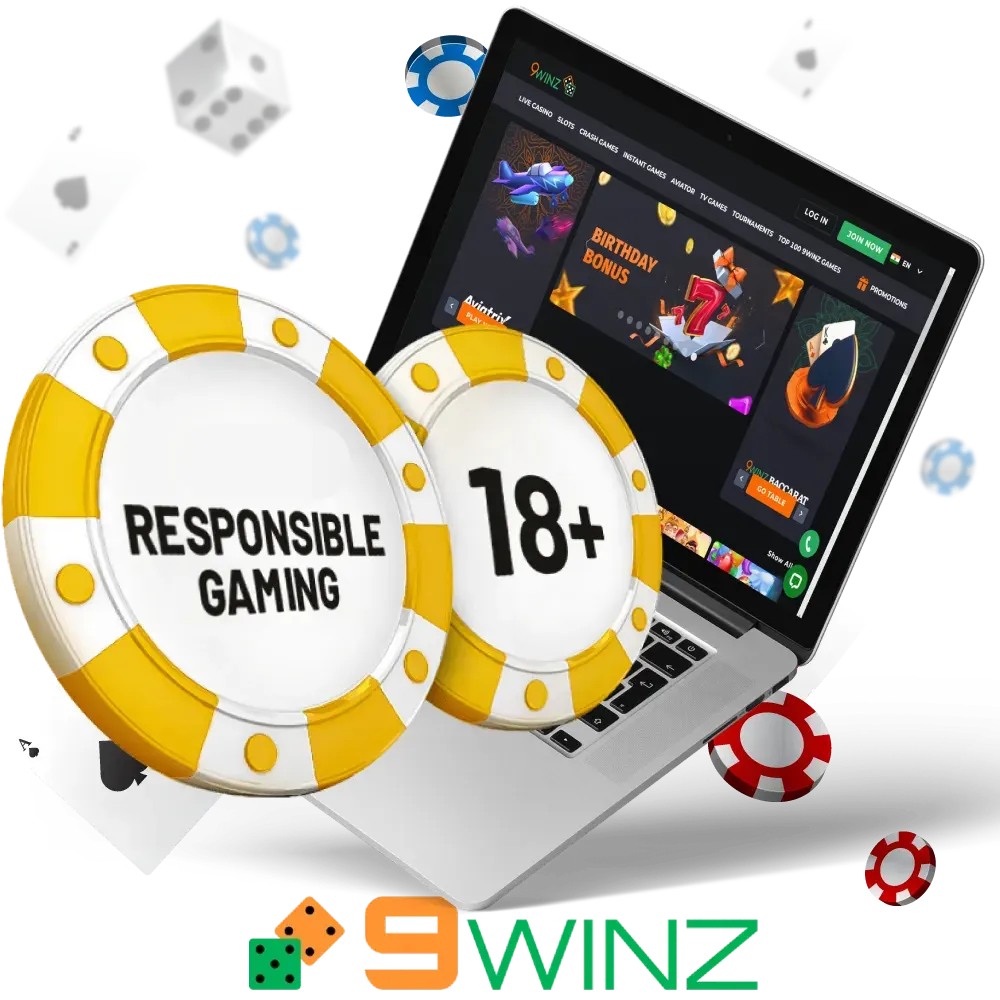 How to Prevent Gaming Addiction?
The concept of "Responsible Gaming" means that each user consciously approaches the process of betting and understands all the risks that accompany this process, as well as is responsible for all their actions.
Most of the users treat betting as a way to have fun, get new emotions and additional profits. This is exactly the goal of 9winz: to give our users the opportunity to have fun, relax and get positive emotions. But you must also be prepared to lose, because betting always carries unpredictable results. Remember that there are no betting strategies that can guarantee you a permanent win. Any bet is risky.
In order to follow responsible gambling, adhere to the following tips:
Keep an eye on your budget. Do not spend more than you can afford, so that it does not affect the quality of your life;
Do not make a bet unless you are prepared to lose it. You must be mentally prepared for any outcome;
Do not borrow money from friends and acquaintances, so as not to be in debt;
Spread your budget, including your betting budget: you can allocate it by day, by week or by month;
In order not to lose track of time, you can set limits on the amount of time you can spend betting or playing online casino;
Do not bet while in an emotional state, as you may regret your decision later;
Do not bet while in an emotional state, as you may regret your decision later; If you happen to lose, it is better not to bet too fast to win back. It is better to calm down and go back to betting later;
Do not forget to rest. If you spend quite a lot of time playing online casino games or betting, don't forget to take a break, it will do you good.
Remember that in some cases, gambling can be addictive, and you may not even realize it. It has been medically proven that with gambling addiction, a person is unable to control their actions and has a constant craving for games. As a result, there is a risk not only of psychological distress, but also of financial problems. So that you can assess yourself and your attitude towards gambling, answer the following questions honestly for yourself:
How important is gambling to you?
How much time do you spend on gambling daily or during the week?
Does your budget not suffer and has your quality of life deteriorated because of gambling?
Can you give up gambling for a while and without negative emotions?
Do you often spend more time gambling and more money than you originally planned?
Have your relationships with family, friends, and co-workers deteriorated because of your hobby?
If you have answered all the questions honestly and understand that you do not have an addiction to gambling and you like to bet to have fun and get positive emotions, then you can safely move on to betting on 9winz casino!
We also recommend you to read other useful articles about 9winz, which will help you better understand the platform: